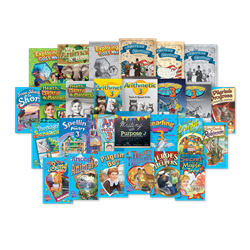 3rd Grade Overview
Reading—What an exciting and growing year in reading! This year's reading includes six new themed compilations and 6 novels covering famous pieces by Robert Louis Stevenson, Patricia MacLachlan, Laura Ingalls Wilder, A. A. Milne, and many more! Help your student "dig deep" into each piece by focusing on the rich literary components.
Language and Penmanship— There is still a lot of grammar and writing building to do in third grade! That means learning new concepts as they are tied to foundational concepts. Here come nouns, verbs, adjectives, and word usage presented in fun, interesting themes such as the zoos of the world, outer space, nocturnal animals, and more! Third graders will also further develop correct penmanship skills through writing exercises that include Bible verses and creative writing exercises.
Spelling and Poetry—Spelling is a learned and practiced art. The 34 weekly spelling lists complete with vocabulary words, definitions and creative exercises will make your students spelling artists! With a larger format, new artwork, and multisensory enrichment activities, spelling and poetry will be a favorite subject for your class! This year's poetry will introduce students to great works of English and American Literature.
Arithmetic—This is the year your students will master their multiplication and division facts! With concepts arranged for logical order, help your students build from the known to the unknown concepts as they graduate into fractions and learning to reduce, add, and subtract them. With interesting facts and theme-coordinated art, learning Math can be fun!
History—Reading the biographies of 50 historical figures—from Christopher Columbus to Martin Luther King—not only gives your students a chronological understanding of American history but also inspiring character-building qualities to emulate. Take your class in for a closer look on the founding, expansion, and modernization of our great country, America.
Science and Health—For curious third graders, learning about the bodies they live in, plants, animals and their habitats, and the weather is not just an academic exercise. It is fascinating!