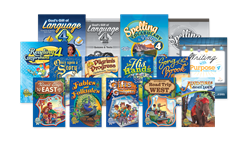 Language Arts Overview
Reading—Reading from a wide variety of authors and genres of story collections gives your students insight into their world and inspires them with Christian ideals and spiritual values. Watch their reading comprehension and vocabulary take a leap with the added emphasis on reading speed and comprehension skills.
Grammar and Composition—You will be thrilled to see your fourth graders become more comfortable with correct grammar in conversation and composition.
Spelling, Vocabulary, and Poetry—A straightforward teach/practice/test approach makes spelling "second nature" to your young writers. They will also learn to spell, define, and use 5–10 vocabulary words in each lesson; and what an accomplishment when they can recite from memory all 6 poems!
Penmanship—Daily penmanship practice begins with a review of cursive letter formation and then graduates into creative writing and journal entries.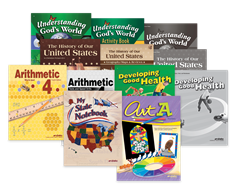 Arithmetic 4 Overview
Help your child excel in arithmetic with the colorful, daily work-text Arithmetic 4. Practice multiplying and dividing 2-digit numbers, estimating, and writing decimals as fractions. Your child will solidify his understanding of square measures, simple geometry, proper and improper fractions. Daily word problems, supplemental problems, and a handbook for terms and definitions in the back of the book provide ample opportunity for application and review.
History 4 Overview
Present American history to your child in an interesting way through the narrative format of The History of Our United States. From the days of Christopher Columbus to the United States' involvement in Operation Iraqi Freedom, teach your child about the discoveries, innovations, documents, wars, and people that have played a part in establishing America's greatness. Charts of states and Presidents plus foundational documents such as the Preamble to the Constitution, the First Amendment, the Gettysburg Address, and more are included in the back of the text for your child to memorize and appreciate for their historical importance. Chapter checkups, timelines, and bold terms assist your child as he journeys through his first formal study of history.
Science 4 Overview
Your fourth grader will enjoy this fascinating presentation of things that he can observe in the world around him. He learns how to make an insect zoo, how to identify plants and rocks, how to attract birds to his own back yard, and how to interpret cloud formations. Your child will appreciate the miracle of plant germination, the causes of weather, the design of the starry heavens, the ecology of the ocean depths, and other aspects of God's creative genius. Demonstrations and activities throughout the text keep learning lively. Comprehension checks and Chapter Checkups provide for thorough review.
This text is scheduled for a 27-week course, followed by Developing Good Health taught the last 8 weeks.
Health 4 Overview
Promote proper physical and spiritual health within your 4th grader with Developing Good Health. Present God's intricate design of our bones, muscles, skin, teeth, and more with labeled diagrams and exercises for application. "Healthful Habits" and "Chapter Checkups" help your child remember and apply tips and concepts that help him live life to the fullest.
Taken from: https://www.abeka.com/Search.aspx#stq=&roles=MAGENTOATSCHOOL&grades=G4&prodtypes=TEXTBOOKS