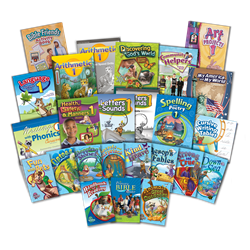 Writing with Phonics Overview
Whether you're introducing cursive for the first time or continuing from previous years, this 255-page writing book will provide your child with the foundational skills of cursive writing. The formation guide gives you and your child a template to follow. Each lesson features warm-up exercises as well as an example of the letter that is being practiced that day. Help your child master letter formation, size, slant, spacing, correct posture for writing, and correct position for paper and pencil. Begins with single letters and progresses to phonics blends of more than one letter, special sounds, and words for your child to trace and copy. Phonics, spelling, and creative writing skills are built into the exercises.
Language 1 Overview
Would you love for your child to be able to write in complete sentences? This one-page-per-day text provides the information your child needs to use words and express them effectively! After completing this text, your child will be able to capitalize significant words; end a sentence with correct punctuation; recognize rhyming words, compound words, synonyms, antonyms, homonyms, and contractions; use prefixes and suffixes; alphabetize words; and even to write original stories on specific topics.
Letters and Sounds Overview
From delightful poems to a coloring key based on vowels, this work-text makes phonics fun! Letters and Sounds 1 provides daily exercises to reinforce the phonics concepts vital to the mastery of reading skills. Each phonics element is systematically reviewed using activities such as marking vowels and circling suffixes, completing sentences, filling in missing letters, matching rhyming words, solving puzzles and riddles, and more. Give your child a well-rounded review and application of phonics with this full-color book featuring themes of the zoo, the farm, the ocean, and spring. 170 pages.
Arithmetic 1 Overview
Using delightful themes and full-color illustrations, this 347-page work-text presents concepts in an orderly manner, building on prior learning and including consistent year-long review. Concepts include counting, writing and reading numbers, place value, addition and subtraction, money, graphs, measurement, time, temperature, and fractions. Applications to real-world situations and daily "Thinking Caps" stretch students' thinking ability. The work-text includes classwork and seatwork (independent) pages for every day based on the themes of the zoo, ocean, farm, and springtime. Your first grader will love arithmetic!
Taken from: https://www.abeka.com/Search.aspx#stq=&roles=MAGENTOATSCHOOL&grades=G1&prodtypes=TEXTBOOKS