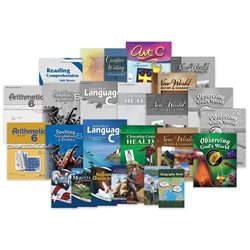 6th Grade Overview
Language Arts
Reading—Classic works by Kipling, Twain, Alcott are just some of the stories and poems that will present your students with literary beauty, Christian ideals, and spiritual values. Thinking and comprehension skills are part of the Abeka reading program.
Grammar and Composition—Creative writing and report writing provide practical applications as sixth graders build a grammar, usage, and mechanics foundation that will serve them well in junior high.
Spelling, Vocabulary, and Poetry—Your students' spelling skills and oral and written vocabulary will grow quickly through their work with English words formed with Greek and Latin roots and prefixes and suffixes. Activities in proofreading and learning about the development of English language are an added bonus! And what an accomplishment when they can recite from memory all 8 poems!
Penmanship—A review of cursive formations is included in Creative Writing, the companion book to Language C.
Arithmetic— Challenge your students with percentages and more complex mental arithmetic and word problems. As in the other skills subjects, the Abeka program ensures repetition and maintenance of basic skills and builds a foundation of understanding necessary for more abstract concepts.
Science/Health—Build a bridge between elementary and junior high science as your students study geology, invertebrates, space travel, and more. In the 7-week Health course, they learn about fitness. They also become familiar with health concerns such as drug abuse and AIDS, studying their physical, mental, and spiritual effects.
History— America's neighbors, Canada and Mexico, become more real as your students explore the history and geography and people of North and South America.
Taken from: https://www.abeka.com/abekaonline/bookdescription.aspx?sbn=364746