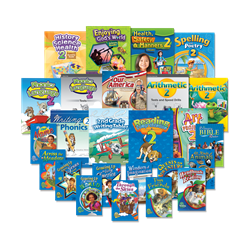 2nd Grade Overview
· Phonics and Reading—Daily practice helps your class reinforce the phonics concepts that develop their reading skills. Your students will read aloud a total of 10 books containing classic and modern stories and poetry that are keyed to phonics sounds.
· Language—Your second graders will know how and when to capitalize and how to write complete sentences and even short stories!
· Spelling and Poetry—The 32 phonics-based word lists with activities reinforce reading skills and teach spelling. Starting second semester, vocabulary words complete with definitions are added. And students will memorize 7 delightful poems!
· Writing—Abeka's step-by-step cursive approach to good penmanship emphasizes neatness and correct letter formation in daily practice.
· Arithmetic—Learning place value, addition and subtraction, money, graphs, measurement, time, temperature, and fractions this year will become a positive experience because of Abeka's clear instruction and planned practice.
· History—Your students will read about the people who built America and gain a better understanding of American holidays, patriotic songs, and flag etiquette.
· Science—Your second grade class will boost reading comprehension while developing thinking skills as each student thinks through the "how" and "why" questions behind the basic science of the human body, plants, animals, matter, energy, and space.
· Health—From regular flossing to proper eating, from crossing the street to fire escape plans, from learning to apologize to properly answering the phone, your students will learn how to glorify God in how they take care of themselves and in how they treat others.
Taken from: https://www.abeka.com/abekaonline/bookdescription.aspx?sbn=309281