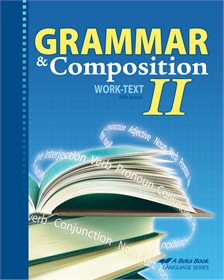 Dive deeper into punctuation protocols, antecedents and appositives, diagraming and dependent clauses with the exercises in Grammar and Composition II. Your child will combine his understanding of grammar and usage with researching and writing techniques to deliver quality compositions. A thorough review of parts of speech and sentence writing plus a consolidated handbook of grammar rules will give your child the tools to confidently complete these grammar exercises and promote his overall communication skills.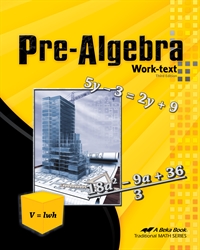 Bridge the gap between basic arithmetic and a more advance study of mathematics with Pre-Algebra. This work-text includes a cumulative study of previously learned concepts plus introductions to multiplying and dividing polynomials, complementary and supplementary angles, buying stocks and bonds, algebraic word problems, and more. With daily exercises, examples, review exercises, Problem Solving Strategies, charts and tables, and a glossary of terms, your child will be equipped with the tools to succeed in Pre-Algebra!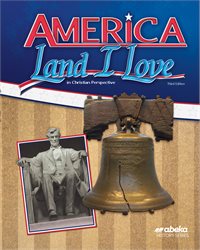 There will be no "I don't like history" comments when your teen reads this text! He will love the narrative style of the text and the many illustrations, maps, and photographs that invite him to explore the past and learn about the personalities and events that shaped the American character. He will be inspired as he studies the faith, patriotism, and moral conviction of many great Americans. The highlighted key facts and review sections help make the learning stick. Gr.8.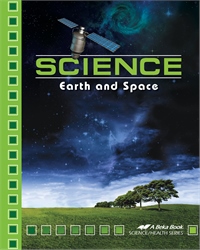 From earthquakes and volcanoes to clouds and galaxies, show your child the features of God's Creation here on earth as well as outerspace with Science: Earth and Space! This textbook guides your child through a study of geology, oceanography, meteorology, astronomy, and environmental science. A thorough study of rocks, soil, and fossils will give your child ample proofs that this earth was created by God and not evolutionary processes. With Section and Chapter Reviews plus articles to defend Creation and 650 picture and diagrams, your child will complete 8th grade science with a detailed understanding of earth and space science.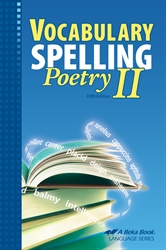 Master new vocabulary words and practice presenting poetry from Vocabulary, Spelling, Poetry II. This text includes 24 Word Lists and 4 Review Lists that each contain 20 spelling words and 10 vocabulary words with definitions that correspond with selections from the 8th grade literature text—Of Places. These lists include exercises that help your child understand and apply spelling rules, use words in the correct context, and recognize homonyms, synonyms, and antonyms. Nine well-known poems are also included for recitation and memorization to enhance the appreciation of poetry.
Taken from: https://www.abeka.com/Search.aspx#stq=&roles=MAGENTOATSCHOOL&grades=G8&prodtypes=TEXTBOOKS